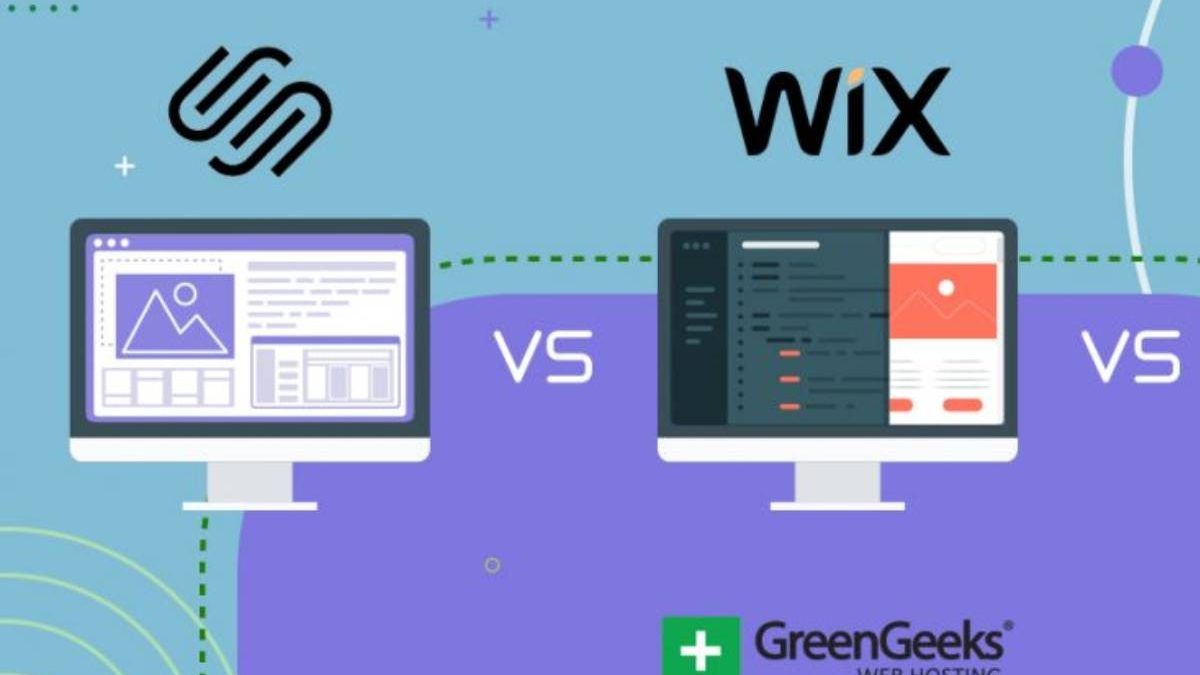 Content management systems (CMS) allow you to create, edit, and publish content while managing media and design elements to fit your business or personal brand.
The best ones provide valuable features such as search engine optimization (SEO), lead generation, analytics, client/customer management, collaboration, and eCommerce capabilities.
In other words, the right CMS can turn your website into a digital powerhouse.
Among thousands of CMS options out there, few come close to what Wix, Squarespace, and WordPress have to offer. To help you choose the best CMS platform for your needs, we compared factors like features, user-friendliness, customization, and more for each platform.
By the end of this article, you'll have a better understanding of how Wix, WordPress, and Squarespace stack up against each other — and which one might be the best CMS solution for you.
Wix 
Wix is a website builder that became insanely popular thanks to its drag-and-drop interface.
It's incredibly user-friendly, offering hundreds of customizable templates and design tools. With Wix, you can create almost any type of website, including online stores, portfolios, blogs, and more.
It also comes with a range of SEO tools and built-in marketing features to help you get found online quickly.
Notable Features
Wix Artificial Design Intelligence (ADI) 
Don't want to spend time dragging and dropping a website from scratch? Wix ADI can build it for you in minutes.
Simply tell the AI what you want in terms of design, content, features, etc. In a matter of minutes, you'll have a fully functioning website that's ready for launch.
Wix Stores 
You can also use Wix to launch a dynamic online store quickly and easily.
Wix offers powerful eCommerce features like abandoned cart recovery, 50+ payment gateways, worldwide shipping, and inventory management.
500+ Website Themes 
You can create just about any kind of website using Wix. The platform has templates for news sites, business pages, portfolio templates, and even wedding websites.
Many of these templates also come with industry-specific features like a booking system for restaurants and other service-based businesses.
Wix App Market
The Wix App Market is where third-party companies and developers offer tools, extensions, and plugins that you can add to your Wix website.
Enhance your website with features like live chat widgets, event calendars, appointment booking forms, and more.
Wix Pros and Cons
Pros:
A no-code website builder perfect for beginners
Hundreds of pre-built templates and themes to choose from
Innovative Artificial Design Intelligence (ADI)
Powerful features for launching an online store quickly
A large, range of third-party apps to choose from
Cons:
Lack of complex customizations
Pricing plans can be expensive
eCommerce features aren't scalable enough for larger businesses
Templates are permanent once the website is live – you'll have to start from scratch to redesign it
WordPress
WordPress is one of the world's most popular and widely used CMS platforms – over 30% of all websites are powered by it.
No other CMS or website builder can beat WordPress in terms of features, customizability, and scalability. The platform has 54, 000+ available plug-ins alone!
WordPress users can also choose from 8,000+ free website themes and templates – plus thousands of free and premium ones from third-party developers.
What makes WordPress so powerful, however, is how users have complete access to their website's source code. The ability to use HTML, CSS, JavaScript, and other coding languages, means there's no limit to what you can create with WordPress.
Notable Features
Jetpack
Jetpack helps WordPress users make data-driven decisions by providing basic SEO, website statistics, site speed optimization, and other features.
Jetpack is free, but there are premium plans available with additional features – such as automated backups, malware scans, and more.
Advanced Blogging Functionality
WordPress was created as a blogging platform and remains one of the finest available today.
It goes beyond simply letting you write, post, and edit content – with a WordPress blog, you can manage comments, schedule your posts, add categories and tags for better organization, and even allow guest authors or contributors.
WooCommerce
For those who want to build and grow an online store, WordPress offers its WooCommerce plug-in for free.
And just like its blogging platform, WooCommerce is a world-class eCommerce solution that rivals giants like Shopify and BigCommerce when it comes to store management.
Access features like a one-click refund, order fulfillment, inventory management, and online shopping carts. Making it even more robust are capabilities such as automated tax calculations, an accompanying mobile app, and integration with other marketing channels like social media, email, and more.
WordPress Pros and Cons
Pros:
Endless customization with 100,000+ themes, templates, layouts, etc.
Ability to edit your website's source code
Drag-and-drop page-building capability with the Gutenberg editor
Free blogging, SEO, and analytics functionality
Comprehensive eCommerce capabilities with WooCommerce
Massive support community
Cons:
Maximizing the platform requires coding and technical skills
The more plug-ins you have, the more maintenance you need to do
No active customer support if you have problems with the platform
Backups and security are your responsibility
You'll need to pay for your hosting and domain name
Squarespace
Finally, we have Squarespace. Relatively new compared to Wix and WordPress, it became an instant hit thanks to its gorgeous templates and fantastic digital marketing features.
Squarespace is more of a website builder than a CMS, and it caters heavily to visual-driven creatives like photographers, artists, and designers. The company labels itself as "the leader of website design."
And that's where the core competence of Squarespace lies. The platform offers 100+ templates designed by professionals, and all of them look stunning. Still, you can edit and customize the aesthetics and functionality of your website to fit your branding and aesthetic.
All Squarespace websites are mobile-responsive and translate perfectly across all devices, so you don't need to invest time and effort in making separate mobile versions of your site.
Notable Features
WYSIWYG Editor
While Squarespace does offer drag-and-drop page-building capabilities, those who need more control can dive deep into the platform's WYSIWYG editor for complex content types and multi-column layouts.
eCommerce Option
Like Wix and WordPress, you can launch an online store using Squarespace. The platform's eCommerce features include the ability to sell and list unlimited products, a built-in checkout system, bookings management, events and scheduling tools, and even set up members-only areas.
Squarespace Mobile App
Manage your website from anywhere using Squarespace's mobile app for both iOS and Android. Create drafts, add images, publish posts, and more from your smartphone or tablet.
Online Marketing Integrations
Squarespace also has an impressive suite of digital marketing tools. Boost your SEO and search rankings with keyword optimization and Google Adwords integration or use Squarespace's analytics to get insight into your visitors, measure performance, and launch targeted marketing campaigns.
You can also integrate your Squarespace website with social media platforms like Facebook, Instagram, Twitter, and more.
Scheduling Functionality
Collaboration is a key part of the Squarespace platform. With it, you can create multiple shared calendars with your team and sync those with Outlook, Google, and similar platforms. It also extends to the client side – your customers can choose from bundled, recurring, or single appointments with you and your team.
Squarespace Pros and Cons
Pros:
Feature-rich even without plug-ins
Some of the most beautiful templates available among all website builders and CMS
Automatic scaling for images
Automatically responsive websites and designs
Seamless integration with other marketing channels
Cons:
May not be ideal for those with text-heavy content
Limited eCommerce features and scalability
Relatively few templates to choose from
Not many options for plug-ins and other third-party tools
Wrapping It Up
In summary, Wix is a great choice for those who need to launch websites quickly and with minimal coding experience. It offers plenty of features but might be a better fit for small businesses than larger, more complex operations.
On the other hand, WordPress is the perfect platform for those who need advanced control and flexibility, while Squarespace is ideal for creatives and entrepreneurs who want a beautiful website with all the bells and whistles.
To help you decide, we recommend testing out each CMS yourself (all three offer free plans) or working with a web development company for expert guidance. Good luck!
Related posts